Client Gifts and Event Favors
The favor that shows that you know how to appreciate and celebrate in a luxurious and special way.
Personalize Your Favor Box
Choicolate favors are the perfect accent for any table on your special occasions, offering an elegant and personal touch your guests will surely remember. We are glad to work with you to create personalized chocolates and presentation that will make your event fabulous. Please call us at (210) 495-2464 or email us at info@choicolate.com for more information.
Get Your Business Logo in any Favor Box
A Setup fee is applied to each order of 1000 prints. Any order is available in one or two colors with an additional fee.  There's no need to use, 1,000 prints at one time. Customized chocolates with your design can be ordered at multiple times with any quantity after the initial setup fee, with a reorder fee applied after the initial 1000 prints has been consumed.
Setup fee:
Up to $250 for one color
Up to $400 for two colors
Lead Time:
Customized design require six (6) weeks lead time
Mix and match with existing designs require two (2) weeks lead time
Deposit:  A 30% deposit is required to begin processing your order
Shipping: Choicolate® can ship your custom order for you.  Please contact us for more information regarding your custom order shipping rates and fees.
Disclaimer: All logos and company names are trademarks™ or registered® trademarks of their respective holders. Use of them does not imply any affiliation with or endorsement by them.
Whether appreciating your clients, celebrating a new partnership, or rewarding dedicated employees, you will find our chocolates with your logo are a thoughtful selection for your special business occasions. Handmade and elegantly packaged, Choicolate's chocolates will leave a delightful impression with a unique combination of exceptional beauty and taste. Wholesale pricing is also available.
2-piece box:
$5.70/box (Chocolate color box, with Antique White, Satin bow)
$6.70/box (your choice of box and bow color)
Minimum Order: 20 boxes
Design
   1) Mix & Match with current flavors and designs - no extra cost
   2) Set up fee for customized design: $250 (1 color)
Lead time
   1) Customized design (6 weeks)
   2) Existing design (2 weeks)
<> Customized Chocolate Designs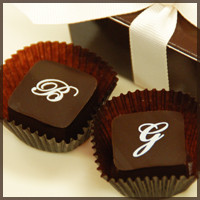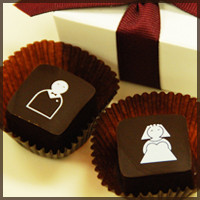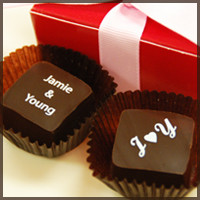 <> 5% Discount on Every Order with the Logo Program